We Partner with Hospital Systems, Healthcare Employers, and Residency Programs
Set up a comprehensive mental health care plan for your clinicians, including teletherapy, meditations, mood analytics, and community programming.
The Clinicians's Road to Recovery
An actionable therapy journey for clinicians, developed
with three steps.
Start Your Journey With Marvin
Prepare and set goals before your first session
Meet Your
Marvin Mentor
Start resolving the issues making you feel overwhelmed
Track changes in your mental health with new objective tools
You Choose your Marvin Experience
Work with the Marvin team to develop a program suited to your hospital system, including 1:1 teletherapy, meditations, mood analytics, and community programming. All interactions are confidential, HIPAA-compliant, and end-to-end encrypted.
Effective and Secure

Clinician

Support
• Top licensed therapists
• Fully confidential and anonymous
• HIPAA-compliant, end-to-end encrypted app
• Assessments of physician burnout and mood
FAQs
Who can join Marvin?
---
We're currently working with hospital systems and treatment centers in the United States.
Over time, we'll expand to additional medical centers, employers, and local organizations. Interested in bringing Marvin to your region? Send us a short message.
---
Who is this "Marvin" person?
---
We've developed "Marvin" as a way to put a friendly name and face to the process of seeking behavioral health care.
We hope that with Marvin joining you on your personal journey, we can take away some of the unfortunate stigma, and work together to find the right program that helps you feel at your best.
---
What is Marvin?
---
Marvin is the first personalized mental health support system for physicians.
We focus on creating an action plan that includes 1:1 teletherapy, meditations, mood analytics, and a supportive community.
---
What makes Marvin unique?
---
When it comes to mental health we know one-size does not fit all. We work with mental health professionals who are the best in their field, and who have specific experience and expertise in working with physicians.
Marvin was co-founded by a physician, and we make sure physician needs are top of mind for our therapists and care team.
---
---
Apa itu waitlist challenge?
---
Sebuah periode di mana kamu berkesempatan untuk mendapatkan akses eksklusif lebih cepat ke aplikasi Nanovest, dan juga mendapatkan rewards yang menarik! Kamu bisa menang 100.000 NanoByte Token (NBT) dalam periode ini. Kunjungi nanobytetoken.io untuk pelajari lebih lanjut mengenai NBT.
---
Apa itu NanoByte Token (NBT)?
---
NBT adalah crypto token dari Nanovest. Kamu bisa dapetin NBT dengan download Nanovest & ikutan waitlist challenge. Selain itu, kamu juga bisa dapet NBT dengan ngelakuin berbagai aktivitas dan transaksi setelah kamu dapat full access ke semua fitur di Nanovest.
---
Kapan saya bisa mulai investasi saham & aset kripto di Nanovest?
---
Saat ini, aplikasi Nanovest sedang dalam rilis terbatas. Kamu bisa mulai investasi setelah kamu dirilis dari waitlist. Kami akan memulai proses rilis pada 10 Desember 2021. Semakin tinggi posisimu di waitlist challenge, semakin cepat kamu dirilis & bisa menikmati seluruh fitur di Nanovest! Ayo download Nanovest & join waitlist sekarang dan jadilah yang pertama untuk nikmati semua fiturnya!
---
Apa itu Nanovest?
---
Nanovest adalah aplikasi investasi revolusioner di Indonesia. Di sini, kamu bisa investasi saham luar negeri & aset kripto dalam satu aplikasi, pertama di Indonesia. Selain itu, kamu bisa transfer uang gratis ke siapa pun & kapan pun! Semua investasi di Nanovest mulai dari Rp 5ribu aja, bebas biaya transaksi, dan tentunya gampang banget. Kamu juga bisa dapetin berbagai hadiah menarik, mulai dari uang, aset kripto, dan masih banyak lagi. Jadi, yuk download Nanovest & ikutan waitlist sekarang!
---
Sampai kapan waitlist challenge akan berlangsung?
---
Waitlist challenge dimulai pada 22 November 2021 dan akan berakhir pada 10 Desember 2021.
---
Apa yang terjadi ketika saya masih berada di dalam waitlist?
---
Kami berusaha keras untuk menghadirkan Nanovest secepatnya kepada kamu. Kami akan merilis semua user secepat mungkin, dan tentu saja kamu akan diberi tahu jika sudah dirilis! Penasaran dengan aplikasi Nanovest? Yuk, intip lebih lanjut di bagian "News" di halaman Utama aplikasi Nanovest
---
Bagaimana cara kerja waitlist challenge?
---
Setelah kamu daftar ke Nanovest, kamu bisa lihat posisimu di waitlist / daftar tunggu. Ajak teman ke Nanovest sebanyak-banyaknya pake kode referral kamu. Saat temanmu daftar ke Nanovest pake kode referralmu, posisimu di waitlist akan naik. Kamu dan temanmu juga akan dapat masing-masing 20 NBT.
Selain itu, kamu juga bisa menang 100.000 NBT tergantung dengan posisimu di akhir periode waitlist challenge (lihat tabel di bawah):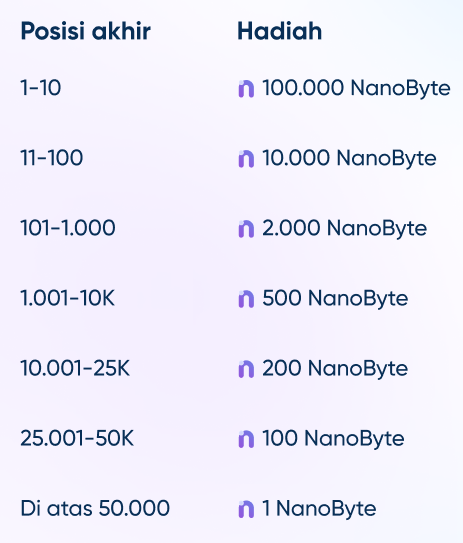 ---
---